L'Ambasciatore di Francia nel Regno Unito prende in consegna una Peugeot 508 RXH top-of-the-range, a basse emissioni di CO2
L'Ambasciatore di Francia nel Regno Unito ha preso in consegna una nuova Peugeot 508 RXH
L'Auto dell'Ambasciata di Francia verrà impiegata per tutti i doveri d'ufficio dell'Ambasciatore di Francia nel Regno Unito
La Peugeot 508 RXH è un veicolo ibrido serie diesel-elettrico
Fonte: Peugeot UK
Londra, Gran Bretagna. 22 Gennaio 2016. Sua Eccellenza Sylvie Bermann, l'Ambasciatore di Francia nel Regno Unito e Stéphane Le Guével, Direttore Generale Automobiles Peugeot Citroen Regno Unito oggi hanno informato sulla vettura in occasione dell'arrivo della nuova auto ufficiale dell'ambasciata francese – una Peugeot 508 RXH.
L'auto dell'Ambasciata francese è una 508 top-of-the-range, scelto da una vasta gamma Peugeot ed è stato selezionato per rappresentare l'Ambasciatore della Francia nei doveri d'ufficio per la presenza, comfort, versatilità ed efficienza, in particolare essendo un'auto ibrida a basse emissioni.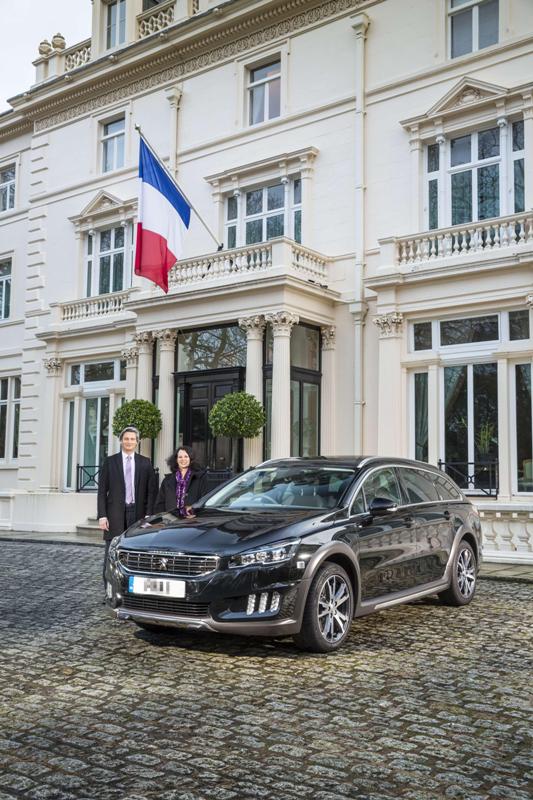 Alimentata dalla tecnologia HYbrid4 possiede quattro ruote motrici, potenza di 200hp combinati e modalità di guida selezionabile tra zero emissioni, sport, 4WD e auto. La produzione di CO2 però, è solo di 109 g/km, nonostante sia una vettura station wagon da cinque posti versatile e con tutte le funzionalità.
Queste caratteristiche rendono la 508 RXH perfetta per l'uso ufficiale; trasmissione versatile – silenziosa e potente su richiesta, fari Full LED per una chiara visione in avanti, equipaggiata con impianto di navigazione satellitare per trovare l'appuntamento successivo, tetto panoramico in vetro per vedere il quadro più ampio dai confortevoli sedili posteriori e una serie di funzioni di serie altamente specifici .
Si distinguise esternamente dall'a calandra Peugeot e lo stile esterno distintivo comprende passaruota e minigonne, mascherina frontale in alluminio e piastre battitacco posteriori in alluminio e un ambiente assetto rialzato – l'ideale per entrare e uscire dalla macchina con la grazia e compostezza necessarie.
La Peugeot 508 è stata lanciata per incarnare qualità, purezza ed efficienza come espressione del marchio nel segmento delle Gran Turismo, fornendo buon confort ed abitabilità agli occupanti in modo particolare per i viaggi sulle lunghe distanze e l'efficienza.
Altri modelli della gamma sono disponibili con emissioni di CO2 di soli 101 g/km, in versioni berlina e SW, con la scelta di motori a benzina oppure diesel HYbrid4.
In English
Ambassador of France to the UK takes delivery of a top-of-the-range, low CO2 Peugeot 508 RXH
Ambassador of France to the United Kingdom has taken delivery of a new Peugoet 508 RXH
French Embassy car is for all official duties with the Ambassador of France to the United Kingdom
The Peugeot 508 RXH is a range-topping, diesel-electric hybrid vehicle
Source: Peugeot UK
London, UK. January 22nd, 2016. Her Excellency, Sylvie Bermann, the Ambassador of France to the United Kingdom and Stéphane Le Guével, Director General for Peugeot Citroen Automobiles UK were re-acquainted today on the occasion of the arrival of the new official French Embassy car – a PEUGEOT 508 RXH. Both had met before when they had similar responsibilities working in China a couple of years ago.
The French Embassy car is a top-of-the-range 508 model, chosen from an extensive PEUGEOT line-up, and was selected to represent the Ambassador of France on official duties for its presence, comfort, versatility and efficiency, notably being a low emissions hybrid vehicle. Powered by HYbrid4 technology it has four-wheel drive capability, combined 200hp output and selectable drive modes; for zero emissions, sport, 4WD and fully Auto. The CO2 output however, is just 109g/km despite it being a large-proportioned 5-seater estate car with all the versatile capabilities.
Features that make the 508 RXH a perfect official car include; versatile drivetrain – powerful or silent on demand, Full LED headlamps for a clear view ahead, integrated Satellite Navigation to find the next appointment, Panoramic glass roof to see the wider picture from the comfortable rear seats and a host of highly-specified standard equipment features. Distinguished externally by its up-market PEUGEOT grille and forward-facing badging, the distinctive exterior style includes wheel arch and sill extensions, aluminium front and rear bumper scuff plates and a raised suspension setting – ideal for getting in and out of the car with grace and composure.
The 508 was launched to embody quality, purity, efficiency and be the marque's expression in the segment of grand touring cars, providing occupants with comfort over long-distance, and the efficiency to go ever further. Other models in the range are available with CO2 from just 101g/km, in Saloon and SW (estate) body styles with the choice of petrol, diesel or HYbrid4 powertrains.
no images were found

.